If you are looking for waterfalls then Iceland is the place for you; we have over 10,000 of them! By their nature they are all stunning, but these are some of our favourites in and around Reykjavik, and they are all free to visit.
Almost everyone who visits Iceland will visit Gullfoss, and given it's astounding majesty and power we can't help but agree, and you can see this beauty on our Golden Circle Tour in a luxury minibus. However there are so many incredible waterfalls in this stunning country to see, we can't name them all, but these ones we have found ourselves returning to many many times and still being delighted by them.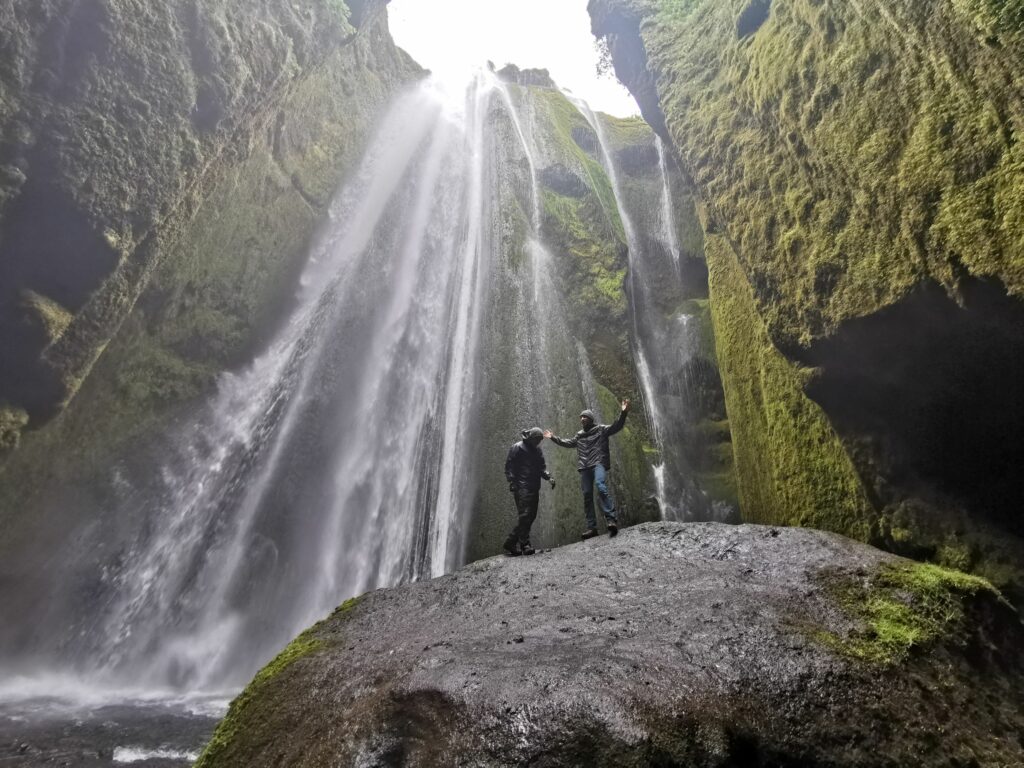 1. Seljalandfoss and Gljufrabui
Seljalandfoss is one of the most iconic waterfalls in Iceland, and we adore it, you can walk behind it, and as the sun rises and sets you can take breathtaking photos through it, and on a clear day see over to the Westman islands! It is so huge that you can see it for miles around, it is just jaw droppingly awesome, but we also adore its little sister, Gljufrabui, its ony a short walk away and we cannot recommend it enough. It's sometimes called the hidden waterfall, and it's 100% worth tracking it down!
If you come with us on our South Coast day trip our guides will take you, but if you are flying solo then follow the path keeping the cliff to your right and past a small cave until a stream stops you. Looking up it you'll see a crack in the cliff face, only a metre or two wide. So many people get to this point and turn back, and they are missing out!
Take your shoes off and roll up your trousers, or tiptoe along the rocks between the cliff walls and shortly it will open out into a green chimney, with water pouring down most of the mossy sides. Underneath the most forceful curtain of water it is a huge bolder. It makes for an incredible photo standing a top it! Worth getting your feet wet for!
2. Hraunfossar and Barnafossar
If you are heading to the north, just before Borganes is a turn off, taking you to see these other worldly waterfalls. Barnafossar is slightly upstream, cutting deep through the rock with white water. It's name means Children's Waterfall, as legend has in two children were crossing a natural rock bridge there and slipped and fell into its swirling depths.
The rock arch is no longer there as legend has it that the grieving mother had it destroyed, but given the powerful river combined with the multiple earthquakes we have here it's also possible the rock crumbled nturally. From there the path takes you downstream to Hraunfossar – lava waterfall, which is fall gentler but much more eerie. The waterfall seems to have no head, water simple flows out of the rocks to join the river of Barnafossar. In reality the water is flowing out of a lava field, just below ground level, and it makes an incredible 900m long natural water feature, you can imagine the elves bathing here!
3. Glymur.
Glymur waterfall is the end point of a four hour hike, it isn't especially difficult, and the pay off, the views are totally worth it. Until 2011 this was thought to be the tallest waterfall in Iceland, it got pushed to second place but at just short of 200m tall it is still extremely impressive.
The start of the hike is about an hours drive from Reykjavik at the end of Hvalurfjordur, which is a stunning drive in it's own right. It is worth noting that this hike is only really safe to do in summer months, but if you are looking for a breathtaking day hike from Reykjavik here you are.
Whilst you climb be sure to look out for local wildlife, and looking down into the fjord you may see whales, it's called whalefjord after all!
4. Elliðaárdalur park waterfalls.
In the centtre of Reykjavik is this very wild feeling park. It is a glorious place to walk, and its waterfalls, though small by Icelandic standards are beautiful nonetheless. It is especially lovely to visit in summertime by bicycle and then cool off your feet in the shallows of the waterfalls, whilst watching the local children jumping in!
5. Hjalparfoss
A little further out of the way than the others this waterfall is worth the journey. It is in an area full of waterfalls and splendour but it stands out, it is beautifully divided, and powerful, creating a very dynamic show. It has always been quite quiet when we have gone there, giving us time to relax and have a picnic, and the pool is large and deep enough to have an extremely cold swim!
The basalt columns are more twisted and chaotic than in other places, for instance svartifoss, but they show the raw power of the earth as this incredible feature was formed. First by lava and then worn down over the millennia with water. It's really easy to get to, with only a small part of the drive being on a gravel road, and there's no hiking involved at all.
6. Öxarárfoss.
Thingvellir national park is an incredible place, both culturally and geologically, and stunning in every season. Where else in the world can you swim in water almost as clear as air between tectonic plates? Once again Iceland is showing off. We visit Thingvellir on our Golden Circle Tour, but you could spent a week exploring it and still not see it all!
The most impressive waterfall in the park is Oxararfoss. This waterfall is a couple of minutes walk away from the drowning pool and the parliament flag area, and is worth the trip! It has had wooden decking built up near it which is a gorgeous place to sit and relax listening to the water thundering onto the rocks below. In winter it can completely freeze up, and it has been climbed by iceclimbing experts.
Hot water fall! Reykjadalur – hot river hike.
We cannot recommend the hot river hike enough, it is totally surreal to people who aren't born in here to go for a beautiful hike up a mountain, only to find a river warm enough to sit and relax in. It is possible to do by yourself, but wear sensible shoes, stick to the path, and take water and an extra layer with you just in case. If you'd prefer to do the hike with a guide get in touch with us!
When you reach the summit there are wooden pathways along the hot river's banks so it doesn't get too muddy, and many people stop there, but do not! Not just yet anyway! Follow the path along, keeping the river to your left and you will find a hot waterfall! It's too hot to bathe in and roped off for safety but you can see the steam rising from it and the colours of the rocks and the plants growing there are unearthly.
Carry on along the river and it will curve round and up into a tiny green valley. Cross the bridge and follow the path, soon you will see a geothermic area, looking red and scorched next to the lush green grass near it. The water running from it crosses the path and looks silver thanks to the minerals in it, truly incredible.
Further up at the very head of the valley is a waterfall, beautiful, fresh and cold to the left, but again the rocks are steaming to the right of it. Surely only Iceland has this beautiful chaos! Be sure to look at the amazing rock formations as your wander the area, they are definitely trolls that have turned to stone!