As Keflavik airport is about 50km from our beautiful capital city of Reykjavik the drive is 45 minutes on a good day. So an airport transfer in a taxi that can cost you $200 that you could spend on awesome tours with us. Unlike a lot of airports situated out of the city we don't have a high speed train shuttle…in fact… in Iceland we have no public trains at all! People have been talking about a new high speed train – the Lava Express – for years now…but it's going to be a long time until we get it. So until then here are your best options for an airport transfer into Reykjavik.
If you are stuck at the airport right now and just want the easiest, pretty cheap airport transfer click here, here, or here for direct bus services. (Read more about them at number 3)
(This article is written in the hope that soon you will not need to quarantine before entrance to Iceland. Currently you do and there are big changes to a lot of services including airport transfers into Reykjavik. Up to date rules about Covid in Iceland can be found here. To get from the airport to your quarantine location they say;
"Persons travelling to Iceland may not be picked up at the airport. This includes family members and friends.  Arrivals to Iceland must take the flybus, a taxi, a rental car or a private car that has been dropped off at the airport."
https://www.covid.is/sub-categories/visiting-iceland
These rules will change over time so please check the official covid website www.covid.is)
6 Airport Transfers that aren't an expensive taxi.
If you arrive in the morning and are planning on doing a tour of the Reykjanes Peninsular then start it from the second you land. If you book a private tour with us then we would be happy to collect you and your luggage, take you to see sights such as the bridge between continents and the Brimketill – a large stunning natural rock pool at the base of the cliffs. After a day filled with whatever you wish we can drop you and your luggage right at your hotel. This saves you $200 off a private day trip. Brilliant!
2. The Blue Lagoon stop over. If you are thinking about visiting the Blue Lagoon during your time in Iceland a great trick is to visit it during your airport transfer. It is only twenty minutes away from it! You'll get on a coach to the city, as talked about below, but you'll break the journey at the spa. After your time slot is over the coach will then collect you are take you on wards to your hotel.
Please be aware that you must book your Blue Lagoon time slot in advance, it is often fully booked, and so if you just turn up you may be disappointed. Several companies offer Blue Lagoon transfers but this is the cheapest we found.

3. Coaches are the most common form airport transfer here, there are several different companies and they are all, give or take about the same price, with a good timetable aligned to flight arrivals, English speaking drivers and modern, comfortable, warm buses, often with USB ports.
The thing to look out for is that large coaches aren't allowed in the centre of the city, so normally you are taken to a depot and then transferred onto minibuses. But Reykjavik is small, so the depot may only be five minutes walk from your hotel! And it wouldn't be worth paying the extra.
If you are staying at the Bus Hostel it is definitely worth choosing Airport Direct as their depot is at it, rather than at the main bus terminal – the BSI. Of course you can transfer to any where else from there, but it would be silly to get a coach to BSI then pay extra money to come to the Bus Hostel. The same applies for a lot of hotels marked as downtown, take a second to google maps it! Then chose Flybus or Grayline.
The prices vary a little but they are normally about 3500isk ($27) one way, 6500isk ($50) return, without an extra minibus changeover.
4. Private airport transfer. If there is a group of you then booking a private airport transfer may be a great shout. They cost about $170 but that is still cheaper than a taxi, and you can fit up to 8 people in it and they will take you directly to your door. The coach companies above also provide this service.
Incidentally Uber is illegal here – so save yourself the hassle of looking! There is a Facebook group -Skutlarar- where people offer rides for a price…but this is no different than getting into an unchecked strangers car – neither the person nor the car could be good. Whilst Iceland is one of the safest countries in the world a good rule for travelling anywhere is – if you wouldn't do it at home don't do it abroad.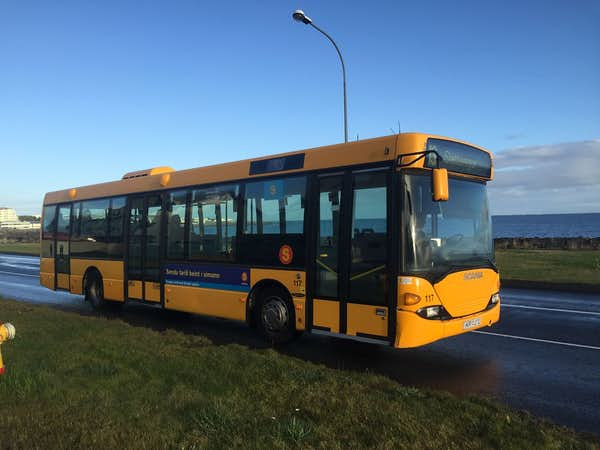 5. Public transport – the local buses. The cheapest way to Reykjavik from Keflavik is using the public bus number 55. You can see the timetable on Straeto. If you are planning on using it please be aware they don't take cards. By far the easiest thing to do is download the app, pop your credit card details on there and use it to buy a ticket. If you want to pay in cash you can…but it's more expensive, and you have to have the correct change, which coming from another country may be tricky!
6. Rental cars are great if you are intending on exploring outside of Reykjavik and don't want to take guided tours. You can rent them directly from the airport area, but check prices using a search engine in advance as it may still be cheaper to get an airport transfer and a lower priced car from the city.
In summer driving here is easy, though be aware we have no motorways, our national speed limit is 90km and there can be winds strong enough to blow cars off the road. For our English friends they should also be aware we drive on the right.
However in winter please check on Road.is before travelling anywhere to see the road condition, and whether it is actually open!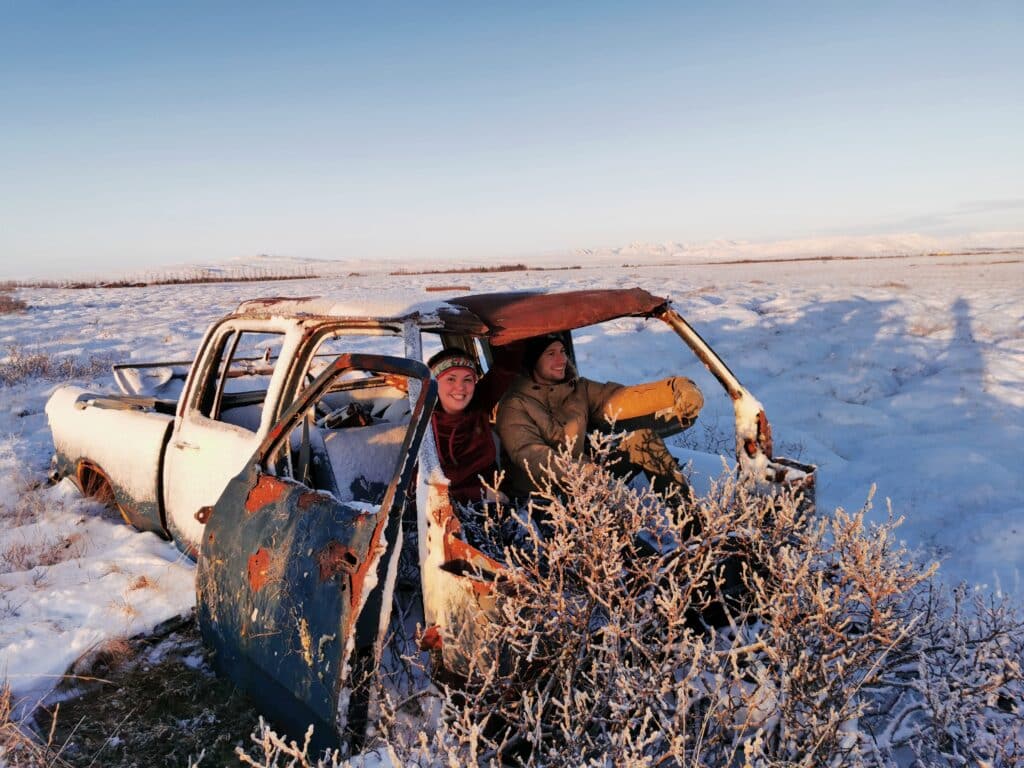 We hope this helps you with your airport transfer from Keflavik to Reykjavik! Feel free to contact us with any questions.